Dim Mak pressure points teacher Dr Pier Tsui-Po is the Grandmaster, founder and principal of the Golden Lion Academy. Based in Melbourne, Australia since 1971, he is also the founder and chief instructor of Dim Mak World of pressure points. He is currently the only teacher in the western world  who teaches the entire topic of authentic pressure points in fluent English. He has taught students from more than 36 countries.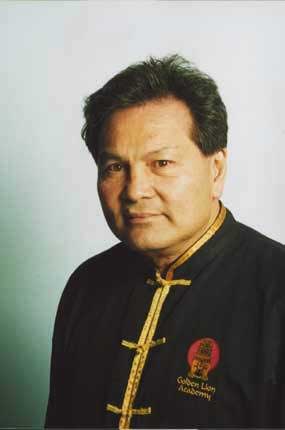 In ancient China, martial arts and medicine developed hand in hand for many years. Monks studying martial arts for self-defence developed their medical knowledge while treating injuries received during practice and in dealings with the communities around them. The Chinese medical practitioners of the time were required to know martial arts to understand the effects of injury and how to treat them; they were often required to treat their own injuries and those of their students.
This symbiotic relationship not only helps explain the interwoven histories of Chinese martial arts and medicine, but also why a master of one discipline was usually very knowledgeable of the other.
Grandmaster Pier Tsui-Po, like his forebears, is a master of both Chinese martial arts and traditional Chinese medicine. Having inherited many secret martial arts techniques, healing techniques and studying extensively with many Chinese martial arts masters and Chinese medical professors, he answers the questions that others cannot answer.
Dr Tsui-Po brings his wealth of experience and qualifications together to share his unique knowledge:
Over 53 years experience in Chinese martial and healing arts including:
founder and Grandmaster of the Golden Lion Academy DMW. He was one of the first to teach Kung Fu to non-Chinese when he established the Golden Lion Academy in Melbourne, Australia, in 1971 and has guided the Academy to its position as one of the world's leading pressure points, martial and healing arts academies.
his students have been highly placed in World Championships. He continues to train tall the Masters at the Golden Lion Academy who are internationally recognised in their chosen fields. Those who have completed their Master's (4th degree Black Belt and higher) grading with him continue to enjoy similar successes with their own students.
advisor to the teachers of state and national kung fu and tai chi champions, including members of the Australian Kung Fu and Wu Shu teams.
regarded as the foremost authority on dim mak pressure points in the world today. He has taught students from 36 countries and continues to do so.
accredited as a Kung Fu Instructor by the Australian Sports Commission (NCAS)
Over 27 years of professional clinical experience in acupuncture and Chinese herbal medicine:
is an AHPRA/CMRBA Registered Acupuncturist and Registered Chinese Medicine Practitioner with the Chinese Medicine Registration Board of Australia
is a Fellow of the Australian Acupuncture and Chinese Medicine Association, accredited for the clinical practice of acupuncture and moxibustion, Chinese herbal medicine and Tui Na massage. He teaches specific Chi Kung, Dao Yin and healing techniques to patients to speed their recovery from illness; and he teaches and practices dim mak healing
treats hundreds of private patients in his clinic every month
in 1995 he was awarded a doctoral degree for his work in acupuncture. In addition, he also holds a Master of Applied Science degree in Chinese herbal medicine from the Royal Melbourne Institute of Technology University. This long clinical experience in both acupuncture and Chinese herbal medicine is necessary to unlock the secrets of pressure points
his clinical experience is sought after by patients and university students of acupuncture and Chinese medicine
he is a full-time doctor of acupuncture and Chinese herbal medicine in his clinic at the Berwick Specialist Suites, Suite 8 – Level 1, 50 Kangan Drive, Berwick, Victoria, Australia.
Grandmaster Pier Tsui-Po's combination of skills in both martial arts and clinical Chinese medicine is rare and unequalled and as such he is a much respected and widely consulted authority.
A profound and dynamic teacher bridging the gap between ancient secrets and modern applications by freely giving of both his knowledge and his skills, students of Grandmaster Tsui-Po find him insightful, informative and inspiring. He is receptive to their needs and contribute positively to their development at all levels.
Grandmaster Tsui-Po has authored several books and numerous articles on both martial arts and Chinese medicine; he has written and lectured extensively on many aspects of martial arts and pressure points, including: