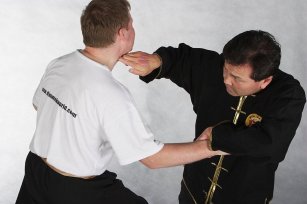 Thank you for your interest in finding out about dim mak. First, it is important to tell you a little about Dim Mak World because you'll come across it sooner or later.
Dim Mak World (of Pressure Points) is a division of The Golden Lion Academy. Established since 1971, it is one of Australia's oldest martial arts organisation located in Melbourne, Victoria, Australia. Dim Mak World is the school responsible for the distance training of students who are not based in Melbourne Australia. We offer a fully integrated programme to keep you at the cutting edge of pressure points knowledge and training.
Dim mak world website (formerly dim-mak-world.com) has been fully integrated into this Golden Lion website to avoid duplication.
Dim Mak World is the official governing and certification authority for Dim Mak Pressure Points. It oversees the professional standards in the practice and instruction of pressure points. It promotes and regulates Grandmaster Tsui-Po's unique Pressure Points System for the learning and practising of the art of pressure points.
Grandmaster Pier Tsui-Po established Dim Mak World after research showed that over 90% of today's instructors do not know about pressure points. There are also many serious errors and inconsistencies on pressure points, in a number of popular books and magazine articles. These errors are confusing and put practitioners at risk. Dim Mak World allows students and practitioners access to accurate and authentic information.
If you are seeking both traditional and contemporary insights into the art and science of pressure points, whether to improve your training or to reach a higher level in the martial arts, you'll find excellent home study resources and information that will challenge and empower you in your chosen art.
This website provides expert guidance, the latest news, and tips on various aspects of pressure points and associated combat, self defence and healing techniques. Anyone interested in learning or teaching authentic dim mak is welcome. So don't forget to subscribe to our ezine newsletter. You'll also find many articles in our Blog page.
In conjunction with this website, Grandmaster Dr Pier Tsui-Po offers professional training courses, books, DVDs, manuals and seminars to provide a total learning programme on pressure points for self defence and self-healing in the martial arts.
If you would like to attend regular classes, please call us on our central telephone number 9796-1066 for class times and fees or email us through our contact-us form.