Self defence, martial arts fitness and the building of personal character for success in daily life
Established here in 1971, Golden Lion Shaolin Kung Fu Melbourne is a non-violent martial arts self defence programme that builds the right attitude, character and discipline in you and your child to succeed in life.
Powered by extensive Chinese martial arts knowledge and long experience, your safety and enjoyment is our top priority. You'll learn to a higher standard with the unique methods we have refined over the past 44 years. You too can benefit.
Taught in fully equipped kung fu training centres at our
Berwick
,
Rowville
and
Murrumbeena
martial arts academies, our Golden Lion kung fu Melbourne curriculum and syllabus, designed specifically for
children
,
teenagers and adults
(male and female), allow you to graduate from beginner to advanced level in a supportive environment.
You'll train in small groups which allow a nurturing, personal approach to teaching and learning. You'll learn various kung fu bare hands forms, weaponry, self defence applications, self defence against weapons or knife, dim mak pressure points, Chinese lion dancing and special breathing and meditation exercises. Real life self-defence techniques are put into combat practice in a safe and respectful manner. You may even want to be trained as an instructor and become certified to teach or compete in regular kung fu tournaments which are held locally and internationally.
On the mind and emotions level, kung fu martial arts at the Golden Lion Academy will help you improve mental focus and inner strength; your memory and concentration will improve; you'll reduce stress and anxiety and have calmness of mind. Improved confidence, discipline and courage are part of the benefits you'll receive with our classes. The values that are important in shaping personal character, for example, honesty, integrity, patience, tolerance and respect for ourselves and others, are reinforced throughout our classes.
While you gain a lean fit body, our classes will help you improve your strength, endurance, balance, coordination, reflexes, flexibility and range of motion while you learn to defend yourself. You'll no longer be bullied.
Defending yourself is a skill that can be learnt. You can learn to defend yourself against a knife, stick or an unarmed assailant. We'll teach you how to do that in our classes for adults, children and parents.
Special kung fu breathing techniques help you to conquer anxiety, stress and fear, improve health and self-control. Your concentration, memory and mental clarity will strengthen while your confidence, courage and self-esteem improve.
As you learn from our highly qualified Masters and instructors who have extensive experience in their field, you'll be healthy, confident and able to meet the challenges that life offers you. You'll have the right attitude and discipline to succeed in life. These are the benefits you'll gain when you join us at Golden Lion Kung Fu Melbourne.
Join us today, call 9796 1066.
Kung Fu Books, Ebooks and DVDs You Can Buy Today
The following are kung fu Books, Ebooks and DVDs you can buy today on our Golden Lion Academy's secured website. Just click on the links below to make your order.
Kung Fu Foundation Techniques Exercises (on DVD)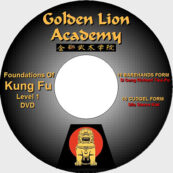 This DVD teaches you the essential techniques and exercises you need to know to enjoy the benefits of Chinese martial arts. You'll learn the 16-steps bare hands form and the 16-steps cudgel weapon form. These forms create the basis for a solid foundation into your kung fu journey. Both forms are easy to learn. You'll learn the essential combinations of Southern style kung fu skills such as stances, footwork, blocking, striking, cudgel techniques and self defence applications of the forms. Click here for more information.
Internal Martial Arts Nei Gung Kung Fu Training: Breathing Meditation (eBook)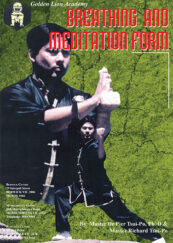 Nei Gung, Internal Martial Arts Training in Kung Fu is a breathing and meditation form that is taught and explained in an eBook.
This is a classical kung fu routine that trains the mind to strengthen the body, improve health and regulate the flow of Chi Life force energy throughout the body's meridians. The various breathing exercises and slow resisting motions of this form also exercise the internal organs and strengthen muscles, tendons and ligaments. Click here for more information.
The Shaolin Cudgel For Martial Arts — Weapon Training (eBook)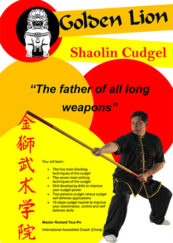 The Shaolin Cudgel for Martial Arts is also known as the Staff or Bo. It is the first and foremost weapon taught in any martial arts school. Techniques learnt from using this weapon create a foundation for learning all other martial arts or Chinese kung fu weapons. This is why the cudgel is known as the "father of all long weapons".
In keeping with this tradition, Master Richard Tsui-Po offers you a new eBook with detailed and accurate explanation of all the essential techniques you need to know in order to master this weapon. Click here for more information.
Stance Training to Boost your Martial Arts ( eBook)
This instructional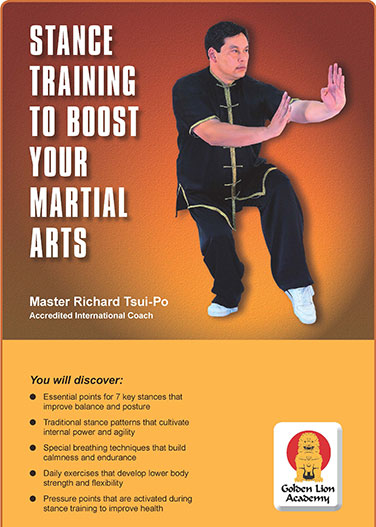 Golden Lion eBook teaches the seven main stances used in martial arts, in particular Chinese kung fu.
The stances can all be used by beginner to advanced level students. In this ebook, you'll learn how to do the following stances correctly: Horse Stance, Bow and Arrow Stance, Cat Stance, Crane Stance, Cross Stance, Crouching Stance and Snake Stance.
Click here for more information.
Dim Mak Pressure Points books, manual and DVDs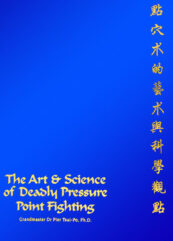 Please click on this link for a brief summary of the list available for you to purchase and for more information on these items.