All Kung Fu instructors and expert Masters of the Golden Lion Academy are fully accredited instructors under the Australian Government's National Coaching Accreditation Scheme (NCAS), the Australian Sports Commission and they all have Working-With-Children endorsement.
Under the supervision of Senior Master Richard Tsui-Po, together with Master Steve Kiat, Master Craig Rayner, Master Steven Orloff and Grandmaster Dr Pier Tsui-Po (Retired), they train a select group of instructors dedicated to help you become healthier and fitter while you make new friends, become more focused and have better confidence and self-esteem.
Below are the credentials of our instructors.
SIGUNG RICHARD TSUI-PO
Kung Fu Chief Instructor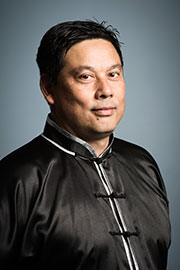 Over 42 years of experience
International Wushu Judge (International Wushu Federation)
International Wushu Coach (International Wushu Federation)
7th Degree Gold Belt Senior Master (Golden Lion Academy)
Accredited Kung Fu Instructor Australian Sports Commission (NCAS)
Represented Australia in World Wushu Championships 1988 and 1990
Australian Full Contact Champion 1984
Australian mixed styles Bogu Champion 1984
Personal coach to 1997 Australian Wushu Champion
Coach of athletes selected for Australian and World Championships Teams
Current Working-with-Children endorsement
     Author of:
Foundations of Kung Fu
Iron Wire Breathing and Meditation Form
Spirit of the Tiger
The Fighting Art of Kung Fu
Stance Training to Boost your Martial Arts
SIFU STEEVE KIAT
Kung Fu Wushu Master, 6th Degree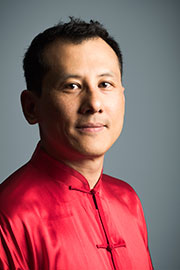 6th Degree Gold Belt Master – Sifu Level (Golden Lion Academy)
National Assistant Coach Australian Team 4th World Traditional Wu Shu Championships October 2010 Shiyan, China
Accredited National Wushu Judge (National Officiating Accreditation Scheme)
1997 Australian Nan Quan Wushu Champion
Australian Representative in the World Wushu Championships 1988, 1990, 1997
Advanced Certificate Southern Style Kung Fu (Beijing University of Physical Education China 1996)
Coach of gold, silver and bronze medallists at World Traditional Wushu Championships, 2004, 2014
Coach of gold, silver and bronze medallists at National Wushu Championships, 2008
Judge at many State and National Wushu Championships
Author of Shaolin Five Animals Kung Fu Elementary Form
2008 further development and upgrade in China under the guidance of Wushu Master Wu Bin
Over 33 years experience
Current Working-with-Children endorsement
SIFU CRAG RAYNER
Kung Fu Master, 5th Degree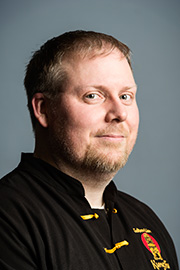 5th Degree Gold Belt Master – Sifu Level (Golden Lion Academy)
Dim Mak Pressure Points Certified Senior Instructor Advanced Diploma (Dim Mak World)
Accredited KF Instructor Australian Sports Commission (NCAS)
National Wu Shu Championships, 2nd place Traditional Forms 1999
2000 and 2002 travelled to China to further develop and upgrade knowledge under the guidance of Wushu Master Wu Bin
Over 28 years experience
Current Working-with-Children endorsement
Victorian All Styles Tournaments:
– 1st place Weaponry, 3rd place Demonstrations, Grand Championships 1989
– 1st place Black Belt Forms, 2nd place Synchronised Forms, 2nd place Demonstrations, Grand Championships 1992
– 3rd place – Black Belt Forms, Grand Championships 1993
Golden Lion Academy Tournaments:
– 1st place Black Belt Sparring, 1989
– 1st place Black Belt Sparring, Forms, 2nd place Synchronised Forms, 1992
– 1st place Black Belt Sparring, Forms and Weaponry, 1996
SIFU STEVEN ORLOFF
Kung Fu Master, 4th Degree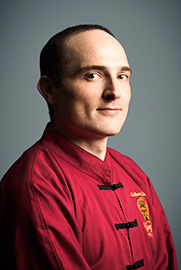 4th Degree Gold Belt Master – Sifu Level (Golden Lion Academy)
Commenced training at the Murrumbeena Centre, 1994
National Wushu and Tai Chi Championships: 1st place Nan Quan (Southern Barehands), 2000
Gold Medallist, Golden Lion Sparring tournament 2003
Bachelor of Health Science (Chinese Medicine) 2006, Registered Acupuncturist
Teaching experience since 1996
Current Working with Children endorsement
Accredited KF Instructor with the Australian Sports Commission (NCAS)
Other Golden Lion Academy Accredited Instructors
Julius Ting
– Si Hing, 3rd Degree Black Belt
Paul Ah-Tye
– Si Hing, 2nd Degree Black Belt
Robert Grant
– Si Hing, 3rd Degree Black Belt
James Klaic
– Si Hing, 1st Degree Black Belt
Ms Jo Baful
– Si Jie, 3rd Degree Black Belt
Malcolm McCormick
– Si Hing, 2nd Degree Black Belt
Troy Dawes
– Si Hing, 2nd Degree Black Belt
Bruce Ryan
– Si Hing, 2nd Degree Black Belt