Tai Chi 80 Year Old Student John Budd celebrated his birthday recently, SiJie Liz Simpson wrote a Poem as an "Ode to John"
Ode to John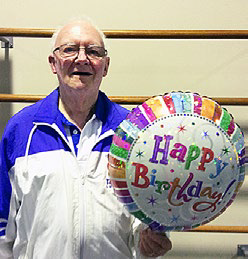 Today's a special day
For our tai chi mate, John,
Who in May 1936
Was delivered as a Pomme.
Up north from Old Blighty
He chose to move because
It was always cold, wet and windy
So he decided to come to Ozz.
Yes, he made his way to Melbourne
Where the sun always shines.
Beautiful one day and perfect the next…
He should have read between the lines!
But our John always sees the bright side
And loves to have a chat,
A bit about tai chi or life in general,
A bit of this….. and much of that!
He's become an icon at Golden Lion,
Patient, determined yet still humble.
Completes his moves to perfection
And low sweeps?… just a wee grumble!
We all admire his courage
He's never one to complain
Does his stretches with barely a wince
Despite dodgy shoulder pain!
He has a gentle, caring nature,
A true gentleman in every way.
We love and appreciate
His presence every day.
And now it's time to celebrate
Eight decades of life and loads of fun.
Happy Birthday to our mate, John
Hip hooray… eighty years young.
Si Jie Liz Simpson